Home security has become a huge concern for people around the world, so, increasingly individuals are investing in smart gadgets that can increase their overall safety.
One of the best investments to increase home security is purchasing a smart lock. There are lots of smart locks out there, and dozens of manufacturers make promises like, "We have the best products on the market".
Worst-case scenario (but not rare) is that hasty purchasers find themselves with defunct products – rubber locks or some other defective device. It's essential for us to choose wisely and pinpoint the companies that manufacture quality smart locks. Fortunately, we're about to compare two of the most popular products from two reliable manufacturers: Schlage Connect and Kwikset Kevo.
If we want to secure our homes and own a reliable smart product that won't fail us, well, we should seriously consider opting for one of these two smart locks.
Kwikset Kevo and Schlage Connect are two of the most famous products on the market. They're top-rated, and best-selling locks on Amazon, both of these companies have thousands of satisfied customers, and, most importantly, their products are highly reliable and trusted.
To find out which is the best smart lock out of these two, we'll compare some of the most critical aspects of these products. We'll talk about their strong and weak sides, evaluate their designs, capabilities and features. Also, we'll create some neat charts that'll help you to make the final decision.
Schlage vs Kwikset: Pros & Cons and Verdict
Before we start comparing these smart locks directly, I'd like to say a few things.
When homeowners consider upgrading and improving their homes, the majority think of purchasing shiny fridges or high-end washers. Lots of people don't realise that they can make their homes more smart, comfortable and secure by getting, for example, a smart lock.
To find out how a smart lock can make our everyday life more comfortable, we'll discuss some crucial topics.
For now, we'll start with the basic, but useful-to-know:
1. Installation Process
It's essential to know if the installation processes of Kwikset Kevo and Schlage Connect are complicated and if we can do them ourselves without professional assistance.
Kwikset Kevo
Installing a smart door lock can be a little frustrating. Certain steps must be completed to have a fully functional smart lock.
If you miss any of the steps, the smart lock won't be functional. So it's vital to install our locks correctly to ensure that everything will work as it should.
Installing a smart lock can be frustrating. Some people have never used a drill before and can find the installation process pretty complicated.
Fortunately, Kwikset has an excellent user's manual that'll help you with the setup. If somehow you get lost during the process, don't worry, I've linked a perfect guide that'll explain the installation process step-by-step. If you follow the instructions as advised, you'll have your fully functional Kwikset Kevo in an hour or two.
The video posted above flawlessly explains the whole installation process. I'm 100% sure that if you follow the instructions, you'll have your Kwikset Kevo running in an hour.
If somehow you mess up in the process and the vid posted above doesn't help (which is highly unlikely), you can reach out to the support team. Kwikset has an excellent customer care area. They'll gladly answer all of your questions (even the most simple ones).
Schlage Connect
Like Kwikset Kevo, Schlage Connect can be a little hard to install. For a non-technical buyer, it might seem impossible to complete.
But if you spend as little as 10 minutes surfing the web, you'll find all the know-how of this smart lock.
Schlage also has a detailed user's manual that'll help during the installation process. I've seen the manual, and I can assure you that it's on point.
Just to let you know, to install Schlage Connect and Kwikset Kevo, all you need is a simple screwdriver. It's as simple as that.
Let's move to more exciting parts of our comparison article and discuss things like design, capabilities and features.
2. Design
It's a no-brainer. When we buy products that are installed indoor or outdoor, we always want them to look attractive.
Besides the security problems it solves, we want our newly bought gadgets to look good and increase the overall attractiveness of our houses.
We want our smart locks to freshen the look of our homes, make them more techy and modern. If we wanted a smart lock that was "traditional-looking" we would've surfed some different models.
Right now, we're talking about Kwikset Kevo and Schlage Connect. These two smart locks are modern gadgets that look good. Let's talk about it more and rate their looks.
Kwikset Kevo
Kwikset Kevo is a gorgeous smart lock that will attract the attention of your visitors. It's round, it glows, and it's lovely. I've talked with a lot of people who own Kwikset Kevo, and 99% have mentioned the beautiful looks of their smart locks.
I've often heard owners commenting that it's nice that their visitors are charmed by these smart locks too. Most people have never seen a lock quite like Kwikset Kevo, and it's a plus to have such a cutting-edge design on display.
Just take a look at it. Isn't it beautiful? To give my personal opinion on which smart lock has the best design, I will vote for Kwikset Kevo.
Aesthetics can be a subjective matter. Some might like the designs of other smart locks but, trust me, Kwikset Kevo is widely known for its outstanding looks.

If you are interested in more of a modern version of the Kwikset Kevo, then the Kwikset 99250-207 Kevo Contemporary is the perfect pick.
Schlage Connect
It's time to rate Schlage's design. Some might think that Schlage Connect is an old-fashioned-looking smart lock that will only appeal to older generations.
As we said earlier, it's a subjective matter, and you'll hear lots of different opinions on this. What I can say for sure is that Schlage Connect is a quality made, durable product that looks exceptionally good.
It might not be a good fit for everyone, but if Schlage looks attractive in your eyes, well, you just found yourself a beautiful smart lock.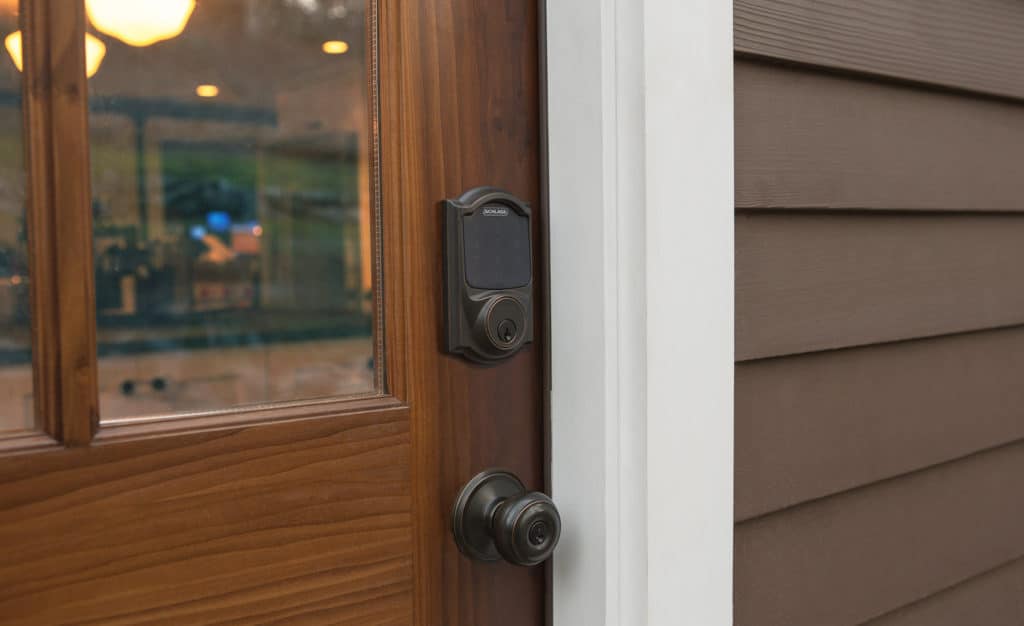 The only thing I want to add is that Schlage Connect visually blends with any home. If your home is more traditional (like the one in the pic above), Schlage Connect will sit very nicely in this context.

3. Features
Besides the visual aspects and the installation process, knowing the features and capabilities of our smart locks is essential.
Firstly, let's not fool ourselves with statements like, "Oh, Kwikset Kevo is a perfect smart lock, go buy it!", "Schlage Connect works flawlessly, don't think about buying anything else!". That's a big no-no. All of the smart locks that are currently available on the market have their pros and cons.
Right now, we're comparing Kwikset Kevo and Schlage Connect so let's talk about their features and capabilities.
Firstly, take a look at the chart below that perfectly showcases the features of both of these smart lock.
Kwikset Kevo

Schlage

Connect

Bluetooth Smart ready with a Bluetooth 4.0 enabled device

Stores up to 30 personalised user codes at a time

History and notifications – see who locked/unlocked Kevo

Z-Wave technology for integration with other electronics

Smartphone compatibility

ANSI Grade 1 Highest Residential Security

Touch-to-Open technology

Durable Resistive Touchscreen

Can be integrated with third-party products

Keyless Security

Free unlimited guest keys

Auto-handing feature

Lock & Unlock via mobile app

Built-in alarm technology

Transferable eKeys

Illuminated, fingerprint-resistant touchscreen

LED technology

Integrates with third-party products
So that's the main features of Kwikset and Schlage. Judging from the chart above, both of these smart locks have somewhat exciting and unique features. For example, the built-in alarm technology makes the Schlage Connect even more attractive since it's something everyone would love to have.
4. Security
The next topic we'll write about is the security levels that Kwikset Kevo and Schlage Connect provide. We've heard it numerous time that smart locks are good but, hey, are they safe? It's important to know if hackers and burglars will be able to bypass the security system.
Kwikset Kevo
Since we use eKeys to open our Kwikset Kevo, there's no chance for a burglar to hack into the system; so you can be 100% sure that Kevo's security system won't fail you; it's 100% reliable, and I've never heard of anyone being burgled because of a security failure.
One more concern you might have is the range of the eKeys. For example, you might go outside and accidentally leave your phone at home. You may start panicking, thinking, "What if the door unlocks itself because my phone lies somewhere close?".
It's an excellent question, and I assure you, the door won't open by itself. The range is concise, and again, it's practically impossible for the door to unlock itself. Also, Kwikset Kevo boasts having a PKI encryption. Kevo has a BMHA Level 2 certificate, the second-best security rating.
Lastly, if for some reason you're unable to use the eKey or fob, Kwikset Kevo can be unlocked with a good old-fashioned key lock.

Schlage Connect
The most significant advantage of Schlage Connect Touchscreen Deadbolt is the security. It easily outranks most of the smart locks that are available on the market (I'd say it outperforms EVERY smart lock on the market). The coolest thing about Schlage's security system is the alert sound that chimes when someone disturbs the lock.
Suggested Read: Schlage Sense vs August Smart Lock: Pros & Cons and Verdict
Schlage Connect also detects forced entries and offers a deactivation mode. It can come in handy when you're travelling or simply away from home for any reason. If you deactivate your smart lock while being away, even the authorised entries won't work.
Schlage Connect meets the standards for ANSI/BHMA Grade 1, and that's the best security rating a door lock can have.

5. Performance
Another important matter we have to discuss is the performances of these smart locks.
Kwikset Kevo
Regarding performance, Kwikset Kevo works pretty great. The app that is required to operate your Kwikset Kevo always runs in the background, and the owner doesn't have to open it every time to open the door. Besides, the Kwikset Kevo app lets you disable eKeys, check the unlock history, etc.
You just need to have your Bluetooth running all the time. You're probably excited about Kwikset Kevo's unique finger-unlock feature. Well, I have disappointing news. Kwikset Kevo's finger-unlock doesn't operate well, and in most cases, it won't even recognise you.
One of the most impressive features of Kwikset Kevo is that it allows you to generate eKeys for friends and family. For example, if you have visitors from out of town, you can just email them the eKeys. Another thing you should know is that those generated eKeys only last for 24 hours. After the time frame has ended, the eKey will become useless.

Schlage Connect
Schlage Connect is a trusted smart lock that is good regarding performance. It's fast, reliable, smart and secure. You can set a 4 to 8 digit code on your Schlage Camelot Touchscreen Deadbolt, and, as soon as it's entered, your door will be unlocked.
If we compare Schlage to Kevo regarding speed, Schlage Connect is noticeably faster. Schlage Connect operates on four AA batteries, and it should last for at least a year. So don't stress at the thought of batteries running out and you being left locked in or out.
If the battery is about to run out, Schlage Connect will alert you a few days before it happens. But to be more secure, make sure to have a backup key.

Smart Home Compatibility
Another interesting topic we should discuss is the smart home compatibility. Most of the buyers who plan to purchase a smart lock already own other smart gadgets and they just want to strengthen their smart home arsenal. So it's good to know if Kwikset Kevo and Schlage Camelot Touchscreen Deadbolt are compatible with other smart gadgets.
Kwikset Kevo
Unfortunately, the first-generation Kevo isn't that much of a third-party-friendly device. It literally won't work with other smart home systems. The only exception is Nest.
But, as I said, the restrictions I've mentioned only apply Kwikset Kevo 1 Gen.
The integrations of the second generation of Kwikset Kevo are lovely, and it happily works with Apple's HomeKit, Ring Video Doorbell, Honeywell Thermostats and Android Wear.

Schlage Connect Touchscreen Deadbolt
Unlike Kevo, Schlage is a solid smart lock that integrates with a lot of smart gadgets. To begin with, Schlage Connect can work with SmartThings and Wink. That's a huge plus, considering that thousands of people use Samsung SmartThings.
Also, if you have some smart lights and home security system, you can use the Z-wave technology to schedule setups. For instance: When you leave your home, you can set the security camera to automatically activate and monitor the area until you return. Pretty cool, right?
In short, Schlage Connect Touchscreen Deadbolt is a friendly smart lock that works with a lot of smart gadgets. Plus, Schlage has released Schlage Connect Smart that perfectly syncs with Apple's HomeKit.

Advantages and Disadvantages
We're slowly moving to the last parts of our comparison article but before we do, let's talk a little more about the advantages and disadvantages of Kwikset Kevo and Schlage Connect Touchscreen Deadbolt.
We need to know what their strong and weak parts are and if these two smart locks genuinely deserve the praise they're getting. To find out, we've created a chart that'll help you understand the pros and cons of these smart locks.
Kwikset Kevo
Advantages

Disadvantages

Great Design

Weak Finger-Unlock

High Durability

Sometimes Buggy

Reliable and Secure

Weak Integrations

Good Design

Flexible Mobile App

eKeys

LED Technology

Easy to use

Purchase Kwikset Kevo
Schlage Connect Touchscreen Deadbolt
Advantages

Disadvantages

Good Integrations

Can be old-fashioned for some buyers

Highly Durable

A bit noisy

Reliable and Secure

Programming without Z-wave difficult

Four to Eight Digit Code Programming

Modern Design

Multiple Access

Easy to use

Robust Z-Wave feature list

Purchase Schlage Connect
That's pretty much everything we need to know about the advantages and disadvantages of these two smart locks. As you've read, there aren't any major flaws with Kwikset Kevo or Schlage Connect.
They do have some minor issues, but there's nothing dangerous. So don't doubt the reliability of Kwikset Kevo and Schlage Connect.
Comparison Chart: Schlage vs Kwikset Kevo
We've written quite a lot about Kevo and Schlage Connect. We've rated the designs of these smart locks, and talked about their features and the installation process.
Before we sum up our comparison article and choose one of these smart locks as a winner, we've created one more chart that'll directly compare Kwikset Kevo and Schlage Connect.
| NAME OF THE SMART LOCK | KWIKSET KEVO | SCHLAGE CONNECT |
| --- | --- | --- |
| iOS & Android Compatibility | Yes | Yes |
| Wi-Fi Support | Yes | Yes |
| Bluetooth | Yes | Yes |
| Lock & Unlock via Mobile | Yes | Yes |
| Activity Report | Yes | Yes |
| HomeKit Support | No | Yes |
| Sensing Qualities | High | Average |
| Reports | Daily and Monthly Monitoring | Daily and Monthly Monitoring |
| Integrations | Less Integration-Friendly | Works With Notable Products |
| Works With Amazon Alexa | No | Yes |
| Alarm Technology | No | Yes |
| Dimensions Of The Product | 5.87 x 10.3 x 3.74 in | 5.12 x 4.5 x 9.25 in |
| Easy Set-Up | Yes | Partially |
| Mobile Application | Good | Good |
| Warranty | 1-year | 1-year |
| Check Price | | |
| Smart Lock Name | Kwikset Kevo | Schlage Connect |
That's everything we can list in this comparison chart. If you take a closer look at it and add all the information you've gained while reading the article, it'll become clear that Schlage Connect is a superior smart lock.
If you want to buy yourself a top-notch smart lock and increase your overall home security, you should go for the Schlage Connect.
The Bottom Line
All in all, both Kwikset Kevo and Schlage Connect Touchscreen Deadbolt are great smart locks. They have some outstanding features, unique specifications, practical designs and high durability.
As we've already said above, Schlage Connect is a better smart lock since it's more reliable, unique, fresh and armed with diverse features.
I've had talks with people who already own Kwikset Kevo 2nd Generation and Schlage Connect and here's what they had to say about their smart locks:
Kwikset Kevo 2nd Generation - This is a definition of the modern smart lock. It works flawlessly, and the product has noticeably advanced compared to the previous model.
Schlage Connect - It easily outperforms any other smart lock on the market. Schlage Connect is a product that'll never fail or disappoint you. It turns your house into a fortress.
So to conclude our comparison article, let's say that Schlage Connect is better than the Kwikset Kevo. With all the amazing features Schlage is offering, hundreds of positive reviews and thousands of satisfied customers, it's impossible not to see the greatness of this smart lock.
So that's it. Schlage Connect is a superior smart lock that exceeds Kevo in every important aspect. It's more reliable, functional and powerful.